Obtaining German citizenship… Syrians tell their experiences! | culture and society | Social issues from the depths of Germany and the Arab world | DW
Syrian refugees took first place among foreigners who acquired German citizenship, ahead of new Turks and Romanians. According to data from the Federal Statistical Office in Wiesbaden, 131,600 foreigners were naturalized in Germany last year. "Half of this increase is due to the large number of naturalized people from Syria," the office said in a statement.
It is important to note that naturalization in Germany requires the fulfillment of many conditions, the most important of which are knowledge of the German language and the existence of a job that covers living expenses, and that the applicant for citizenship has resided in Germany for a period of at least 8 years, and in special cases the period is reduced for 7 or 6 years, and passing the German citizenship test among other conditions such as renouncing the applicant's previous citizenship. However, renunciation of citizenship is not binding for some countries, such as Syria.
According to the data, more than 19,000 Syrians received German citizenship last year, which is a three-fold increase compared to 2020. Statisticians stated that the large number of naturalized Syrians is linked to the migration of Syrians who sought protection in the years 2014 to 2016, now more and more meet the requirements for naturalization." However, the vast majority of newly naturalized Syrians in Germany are less than 8 years old.
The need for housing leads Syrians to brokers
According to the Citizenship Law, anyone who wants to acquire citizenship after only six years of residence can claim it through "special integration achievements", which include acquiring good language skills, academic or professional achievements, as well as civic participation. In these cases, family members can also be naturalized without a minimum length of stay.
Syrian citizenship is not forfeited by the holder
delay and postponement
For Mrs. Maha. For a Syrian woman who received German citizenship a few weeks ago, just meeting the above conditions is not enough, because it also depends on luck, as she said: "The employee who is responsible for the application has a big role in the progress of the file and the time needed to obtain the citizenship approval." She told Muhajir News that after meeting all the requirements for German citizenship, she started applying in February 2021, and her first appointment was in October, and faced a lot of delays and postponements "due to Corona restrictions, and the second time due to system failures." .
She added that the employee was neither friendly nor cooperative and asked for more documents and papers that had to be translated and certified each time. She said: "It doesn't matter. The tensions are in the past. Now I'm happy that I got the approval, although I will have to wait at least two months for the ID card and passport to be issued again."
On the other hand, Samer summarizes his experience in obtaining German citizenship, which is of Syrian origin, and tells Muhajir News that he got it last year after staying in Germany for about seven years, which indicates that it is due to his good integration. into German society and his work because he finished the German language. "I think my involvement in volunteer work with German institutions also helped me."
As for the Syrian woman, Ikram S., she is facing a worrying situation with her family regarding their citizenship application, as she and her husband applied last year and should have been approved at any time, but during the waiting period they had are a child, and she laughingly said: "They are not. Of course, our child was not registered in the registry, and the topic of pregnancy was our nice surprise during the year.
At this point, they have to decide whether to proceed with the request (for spouses only) and get citizenship after a few months. But then they have to wait until the child reaches citizenship age, says Ikram. Or changing the application to include a newborn, "which means reprocessing and dealing with more waiting and red tape."
After obtaining German citizenship… new immigration?
Many Syrians who have been waiting to obtain German citizenship want to visit their families and friends in Syria again without any obstacles or concerns about the impact of the visit on their stay and future in Germany. Like Sarah, who intends to visit her sister. On the other hand, there are those who are waiting to get it in order to ease the travel business and the problems of obtaining a tourist visa that Syrian passport holders often face.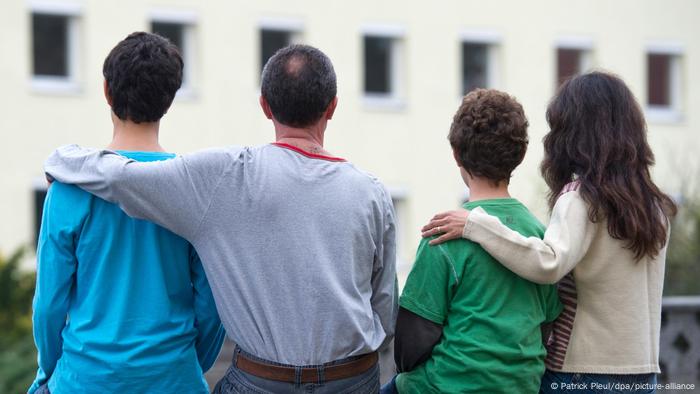 The number of naturalized Syrians has increased in Germany
"Now the nightmare is over… With a German passport, I can finally visit my sister who lives in the United States," said Sarah, expressing her joy at obtaining citizenship, noting that obtaining a US visa with a Syrian passport is considered an almost impossible dream.
In addition, there were also those who were waiting to obtain German citizenship, preparing to leave Germany, that is, preparing for new immigration. In his interview with Muhajir News, Mr. Muhammad explained. He explained the reasons for his desire to leave Germany, talking about the diversity of cultures, customs and traditions: "I respect this country that received me and my family and gave me what I couldn't even dream of in my country, Syria, unfortunately… but I can't to be sure of the future of my children in a society that is not like ours, and I was just waiting for that to be obtained." I have the nationality to make the decision to settle in an Arab country or an Eastern society like ours".
He added, "The idea of ​​going back to Syria cannot be presented with certainty, at least at this point..so I might go elsewhere," and concluded his speech with a smile: "If I'm wrong, we can go back to Germany, because we are Germans now."
The Federal Bureau of Statistics expects the number of Syrians receiving citizenship to continue to rise in 2022.
Muhajir news 2022