Christmas celebrations.. These are the best places to go out in Egypt that are fun and cheap
In the festive season, many people are looking for places to go out in Egypt; Spend quality time with family and enjoy evenings and parties.
It's time to send messages to your friends and loved ones to spend some time with them, especially since the Christmas and New Year holidays are just around the corner. Whether you're looking for an expensive getaway or want to enjoy your vacation on the cheap, here's the list Best places to go out in Egypt and its various provinces.
The best places to go on vacation in Egypt
Let's start with the first place where you will spend a different vacation. For just ten pounds you can roam among the mountains and terrifying caves in the desert world inside Cairo's most important reserves called "Wadi Degla Reservein Maadi.
Maadi Tigris Valley Reserve activities and dates
Inside this reserve there are endangered reptiles, foxes, rabbits and numerous animals and birds.
The reserve begins to receive its visitors seven days a week from 7 a.m. to 6 p.m.
And if you are bored, you can ride a bike or climb the mountains to experience a new adventure with your loved one.
Don't forget to set up your tent and bring the most delicious barbecue food to enjoy eating in the mountain nature and beautiful scenery.
Note that you can camp and stay the next day for just £50 entry. Parking is free, even if you stay overnight.
Nightlife in Cairo for kids
As for suitable exit points for children, they are being considered Dream Park City the largest amusement park in Cairo; Because it contains a huge number of exciting games suitable for different age groups, including water and electric.
Dream Park Cairo dates and ticket prices
Youngsters can also enjoy video games as a form of entertainment for them. The city is open from 10 a.m. to 7 p.m. seven days a week, except Fridays from 10 a.m. to 9 p.m.
A ticket costs £150, including free games only, while tickets for additional games cost between £30 and £50 per game. The city is located on Al-Wahat Road, 6th of October City, which gives you the opportunity for you and your family to complete the rest of the trip in various 6th of October shopping malls, the most famous of which are: Mall of Arabia, Mall of Egypt, Arkan Mall, Americana Plaza Mall, Family Mall and others.
Places to go out with friends

Adrenaline park in Sheikh Zayed is one of the most popular places for going out with a larger group of friends, and you can also take children up to 10 years old.
The park is very interesting, because it is a world full of excitement and adventure, and the most important information about it can be found as follows:
Cairo adrenaline park for adventure lovers
The site contains many interesting games, including: Color Wars.
Prices start from £220 per person.
The place is characterized by an atmosphere of mystery and excitement, entering the world of interesting games that introduce players to the spirit of war.
The game is played by forming a team of four people and they look for another team.
And amusement parks start working from 12:00 to 19:00.
Nightlife places in Cairo for kids

Are your kids looking for one place that combines amusement parks, restaurants, ice skating, parties, green spaces and running tracks? It is Zed Parklocated on Al Horreya Street in Sheikh Zayed.
Zed Park Sheikh Zayed dates and ticket price
Amusement parks work throughout the week, so on Thursdays and Fridays the visit starts from 14:00 to 12:00, and on other days from 12:00 to 22:00.
Zed Park Sheikh Zayed is not only a place for children, but also for adults. The price of the ticket per person is 150 pounds, while children under 4 years old are free.
Games range in price from £25 to £100.
A good place to go out on New Year's Eve

Walk people of Egypt.. It has become the center of attention of many because it provides a unique experience that combines authentic Egyptian civilization and spirit.
Way out of the expensive people of Egypt?
We find that the People of Egypt promenade stretches from the Imbaba Bridge to the 15th of May Bridge, and along the promenade there are numerous cafes and restaurants offering a variety of food and drinks.
For anyone who wants to enjoy the charming Nile and the beautiful greenery, you can enter the People of Egypt Walk for £20 per person, and that's just for the lower section which features a number of restaurants and activities. As for the upper part of the promenade, it is a free space without any fees.
The most important characteristic of the promenade is that it is open day and night.
The best places to celebrate Christmas and New Year

Along the road to the Bani Suef quarry, there are many villages that receive "day trips" from all provinces. Perhaps the most famous of these villages is the village of the Arab village. Let's familiarize ourselves with the most important information about the exit from the Arab village to Egypt:
Information about the Arab village and the price of the entrance
Al-Reef Al-Arabi Village is located on the road to the Beni Suef Quarry, Abu Al-Nomros, Giza, and is suitable for all families who want to spend a day full of fun and activities.
The village includes a wide range of recreational programs and various activities such as: horse and camel riding, amusement parks, cinemas, electric games, playing with paints and clay, as well as swimming pools. Regarding ticket prices:
Ticket price HRK 250 per adult.
125 Ticket price for children.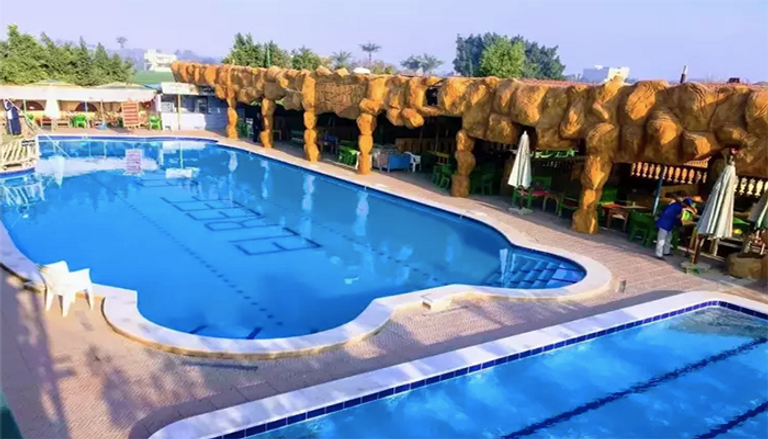 What are the vacation spots in Egypt?
Museum of illusions.. As the name suggests, it is a museum full of interesting tricks with a different and fun experience.
For example, you can walk into a room that spins around you while standing on your head, or you can walk into a tub of water without getting wet.
And we come to the most important thing that makes this place stand out, because it is suitable for all ages, so would you like to visit it? Let's find out its location and entrance prices below:
The strangest museum in Egypt is the Museum of Illusions
The museum is located on the Cairo-Alexandria desert road in the city of Sheikh Zayed. Regarding ticket prices:
£175 for children.
£200 for adults.
£650 for a family ticket.
For travel lovers… a list of the most popular tourist destinations in 2022.
The cheapest places to go out on New Year's Eve

Prepare Moez Street One of the most beautiful streets in Cairo, because it is a choice that suits many people of different cultural backgrounds. Let's get to know your tour of Al-Muizz Li Din Allah Al-Fatimi Street, where it starts and where it ends, as follows:
What is there in Al-Muizz Street for the Fatimid religion of God?
Your tour starts at Al-Moez Street, to meet in front of Al-Hakam Bi-Amr Allah Mosque (Al-Hussein Mosque), to meet Bab Zuweil and some shops known for silver antiques and accessories that embody Islamic heritage and Pharaonic civilization.
You can also finish your tour at the oriental restaurants that serve the most delicious authentic Egyptian food.
Al-Moez Street is considered one of the greatest streets in Cairo, as it includes the largest museum of Islamic antiquities, a large number of ancient mosques, palaces, two gates, traditional handicraft shops and another group of the world's most amazing antiquities in the city of Cairo.
There is no charge to enter the street, it is free for all Egyptian citizens or foreign tourists.
Nightlife and going out on New Year's Eve are not expensive

The most important thing about going out is its simplicity, away from the crowds on the streets. As well as the river bus A great family trip that suits everyone; The price of the ticket does not exceed 5 pounds per person.
It is the best choice in cold winter days; To enjoy the warm Egyptian sun.
River bus stops and times
You can ride the river bus from 6 stops: in front of the Radio-television building in Maspero, next to the University Bridge, Old Cairo Station, Al-Sahel Station, Imbaba Station and Al-Qanater Al-Khairiya Station, and we know the following river bus schedules:
Regular flights:
From 7am to 8pm, with a ticket price of £5 per person per hour.
Air-conditioned excursions by river bus:
From 16:00 to 23:00 the ticket price is £10 per person per hour.
Al-Qanater Charity Trip:
From 8am to 12pm, £15 per person per hour.
The best places for family trips in Egypt
One of the best places to go out in Egypt, full of greenery and distinctive gardens, is Al-Azhar ParkWhere it attracts many families to spend a fun and peaceful time amidst the beauty of nature.
Children can also enjoy and play in the children's play park, or even among the extended gardens, fountains and lakes.
What is in Al-Azhar Park and the conditions for entering it?
Al-Azhar Park begins to receive visitors from 9 a.m. to 10 p.m. with the condition that the ticket price is as follows:
For an adult, £25 every day of the week except Friday and Saturday, the ticket becomes £30.
For children older than 4 years, the ticket price is 15 pounds, and on Fridays and Saturdays, 20 pounds.
Solo travel.. the best destinations for solo travel lovers.
In conclusion, we find that there are many places to vacation, and there are even unique and inexpensive ideas for celebrating the New Year with family and friends, without investing huge sums.
Only you can walk through the beautiful streets of Egypt and spend quality time with your loved ones, because that is enough for all of us to start a new beginning full of positivity.