5 reasons why Liverpool and Manchester United were offered for sale at the same time
Two of football's biggest and most profitable teams were listed for sale at the same time in a bargain market, but analysts say that is no coincidence regardless of the personal motives of the owners of the two clubs.
In November, the owners of first Liverpool and then Manchester United confirmed that they are open to new investment offers, with the possibility of a complete sale of the best English clubs.
Liverpool's owner, American sports conglomerate Fenway Sports Group, is believed to have brought the club's total value closer to 3.3 billion pounds ($3.97 billion), 12 years after buying it for 300 million pounds. Both Goldman Sachs and Morgan Stanley have lined up a group of interested parties for the acquisition, according to CNBC, according to the Athletic newspaper, and Al Arabiya.net commented on it.
Meanwhile, New York-listed Manchester United shares rose 18% following news on November 23 that its owners were open to investment opportunities. The total value of the ancient English club is estimated at 5 billion pounds or more.
The American Glazer family, owners of Manchester United, have had a stormy relationship with fans since they bought a controlling stake in 2005 for £790m in a controversial and high-profile deal that piled the club further on debt.
Aside from any personal motivations of the owners, Dan Hargey, senior sports analyst at market research firm Ampere Analysis, said: "There are clear factors in the market that the timing of this sale is certainly not a coincidence."
Big money competition
One of the constant complaints Manchester United fans have about the Glazers is the lack of investment in the club, both in facilities and players.
But any future increase in funding comes within an increasingly competitive field of Premier League clubs such as Manchester City – majority-owned by Sheikh Mansour bin Zayed Al Nahyan – and Newcastle, which was bought last year by an investment group led by the Public Investment Fund.
"From a financial point of view, the current owners will reconsider," Harghey said [لليفربول ومانشستر يونايتد] The level of investment needed to keep up with rival clubs that have deeper-pocketed owners, both domestically and in Europe," he said, also citing Paris Saint-Germain, which is owned by Qatari businessman Nasser Al-Khelaifi.
Manchester United reported an increase in revenue but a net loss of £115.5m for the 2022 financial year, up from a net loss of £92.2m. Last year.
In its latest published results, Liverpool reported a pre-tax loss of £4.8m in the year ending May 2021 and a loss of £46.3m in 2020, with the matchday pandemic.
"Officials probably don't see spending as sustainable, given the level of competition they face," Hargey added.
Failure in the Europa League
The collapse of a project aimed at creating a new revenue stream for top clubs could have the owners questioning their ability to increase profitability.
The announcement of a new UEFA Super League in spring 2021, which would allow automatic entry for 15 founding clubs, including Liverpool and Manchester United, was met with such criticism and widespread accusations of money-making at the expense of the game. But this project was cancelled.
Guaranteed revenue, especially from broadcasting revenue over which the participating clubs would have significant control, was the main driving force behind the Europa League project.
Hargey said the Premier League has become a relatively more open competition, meaning top teams are less guaranteed entry to competitions such as the Champions League each year.
"Not qualifying could be a big blow to the club's income," he added.
interest of investors
At the same time, there are many teams in European football "that have the reputation and global fan base that make them highly sought-after investments," according to David Bishop, partner and sports expert at consultancy LEK.
"Sports investment has also taken a bit of a shock post-Covid as many sporting bodies and teams have come to market to offer equity positions, mainly to help manage cash flow issues arising from Covid," Bishop said.
"The US market, particularly MLB, NBA and NFL, is now very mature and well-invested, so investors are also starting to look more seriously for US-style sports opportunities in international markets," Bishop continued.
"In the case of Liverpool and Manchester United, both owners have held onto the club for a long time and both assets have been highly valued with the development of leagues, brands and global fan bases." Whether or not this is a good time to buy, but overall, this is an asset that should be very resilient over the medium to long term."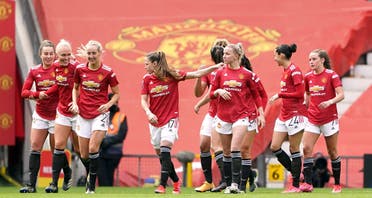 Manchester United Women
earning opportunities
Bishop said media rights are increasingly important to leagues, especially at international level, and investors will see significant growth in the Premier League's global audience.
There is also the potential to generate more revenue for international fan bases through experiences, merchandising and outdoor games – as seen in the opposite direction in the UK, which draws huge crowds to American football and basketball games.
Angus Buchanan, managing director of The Sports Consultancy, also cited US private equity firms and institutional interest in football clubs as key reasons why the Glazers and Fenway Sports may feel the time is right to sell.
Chelsea's surprise sale
Premier League club owners closely watched the rapid sale of Chelsea in May, which was accelerated amid a British crackdown on the assets of Russian oligarchs following Russia's invasion of Ukraine in February. A consortium led by US investor Todd Bohle paid £4.25bn for the club (of which £1.75bn is earmarked for future investment) after the government confirmed the profits would not go to former owner Roman Abramovich.
Harvey described the interest in working with Chelsea as unprecedented for a club in the Premier League, and according to media articles, the number of people interested in the job reached as many as 200.
Analyst Angus Buchanan said the sale was likely "somewhat of a catalyst" for the move in November.
"Maybe club owners have seen a bit more activity in the market and now there is a stable reference point in terms of valuation and level of interest," he said.