Children play music 48 hours after surgery
In Hospital 57357, the treatment of children with cancer is not limited to chemotherapy, radiation and surgical interventions, but includes psychological rehabilitation and art therapy.
And in the Center for Fine Arts, you can see works of art signed by sick children, as in the most famous art exhibitions, but also giant artifacts and sculptures.
During their tour of the hospital, "Al-Ain News" met with "Karawan", a behavioral engineer at the Center for Artistic Creativity, to learn more about this aspect of the treatment and get to know its aspects. And to the dialogue text:
In the beginning.. what does art therapy mean?
Art therapy is very important in "57357" and a child at the beginning of a cancer diagnosis experiences a big shock, and the news is catastrophic for him, but at the Center for Artistic Creation we prove that the path of treatment is the beginning of a new life for every sick child, and we lead patients to discover art, colors and everything Beauty around them in life, with the aim of removing negative energy from them and replacing it with positive.
In the beginning, we force the child to see colors and all that is beautiful in the world with his own eyes, and we begin to withdraw all negative energy, and get to know his problems and way of thinking after the diagnosis of the disease. , then we give him tools for drawing and paints and integrate it into the activities of realizing art works, so that these things and activities replace the wrong ideas about the disease in the child.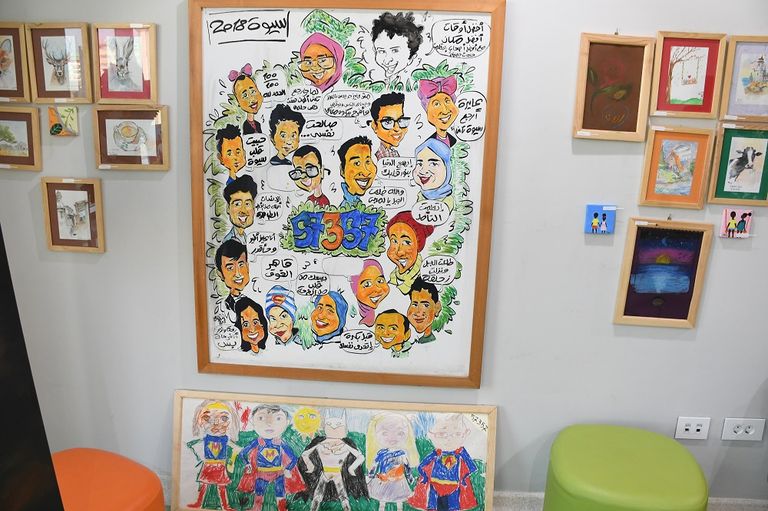 What are the stages of art therapy?

Art therapy goes through 3 stages. In the first stage, we accept children from one and a half to 5 years old. This stage includes all children, determined people, and children with Down's syndrome, and in it we discover their talents. In the second stage, we have a room for "handicrafts". where we accept children from 5 to 10 years old, and in the third stage is the Art Room, where we accept children from 10 years old and up.
In the first phase, we work on discovering art and talent in the child, and in the "handwork" phase, we force the child to play with colors and drawings and provide him with the space he wants. In the 10-year or "art" phase, we begin to teach the child great arts, assigning him to the field he prefers and strives for, along with behavior modification and psychotherapy.
So, we provide psychological and behavioral therapy for the child with art, and we work on all kinds of phonemes, in music, for example, we teach children the notes and explain the meaning of the symphony, and this is very important at a time when art and music have seriously regressed in society , and here we teach children fine arts, our colleagues from the opera are volunteers who do a very sweet job with children. Imagine a boy who undergoes a dangerous operation such as removing a tumor from the brainstem that lasts 21 hours, and after the operation 48 hours, the boy comes here with music. Nothing is impossible. The importance of art in any treatment is very important. The importance of medicines and the treatment itself.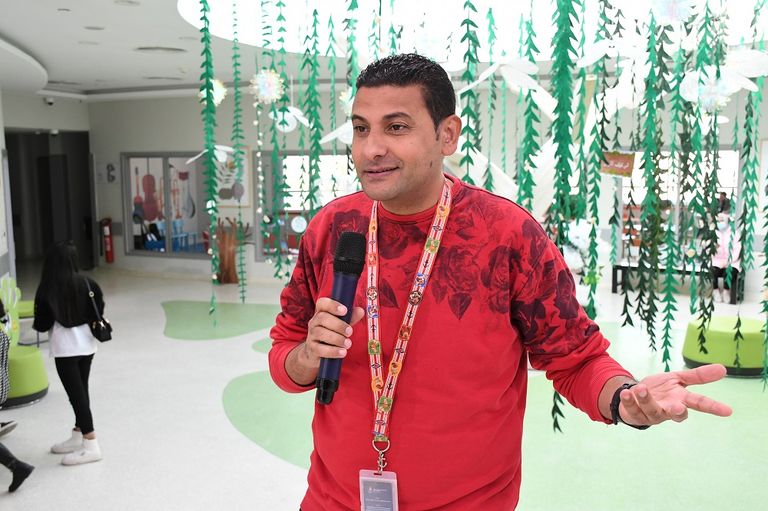 We saw artwork around the center… Do they have patient signatures?

Indeed, the works of art in the center are from the creations of sick children and this surprises many, and we have children who were treated in the hospital and center and have now become doctors, engineers and national champions, and we discover all ages, we include relatively young children in motor activities and we depend more on play, and at the age of At the age of 5, the child begins to put pencil and paint to paper.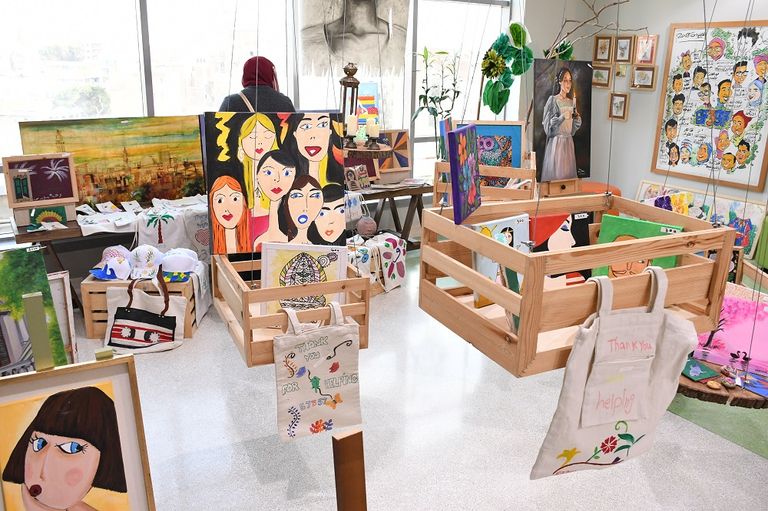 What is the importance of art therapy for a cancer patient?

Art therapy is very important. In addition to medical treatment, we also treat children behaviorally. Our goal in introducing the child to art and behavior modification is that, after the treatment phase, he will be a good citizen in his society, have good morals and receive a positive upbringing. Our goal is for the patient to be a human being, a child and an influential person in his environment, therefore Art Therapy very important, and it cannot be left without art, colors and music, because art is food for the soul.
Most of the children in the hospital come from distant and separate places, with different behavior and an environment that does not allow the child his space in art works, and in the center we want to provide the child with that space and provide it with everything he needs, but in the right way, for example, the child may want to play with matches (matches), and if you try to dissuade him from that with clubs, then it is the beginning of the path of loss for the child, but here we make him play with matches, but in a specific way that explains to him how to light matches and their correct use.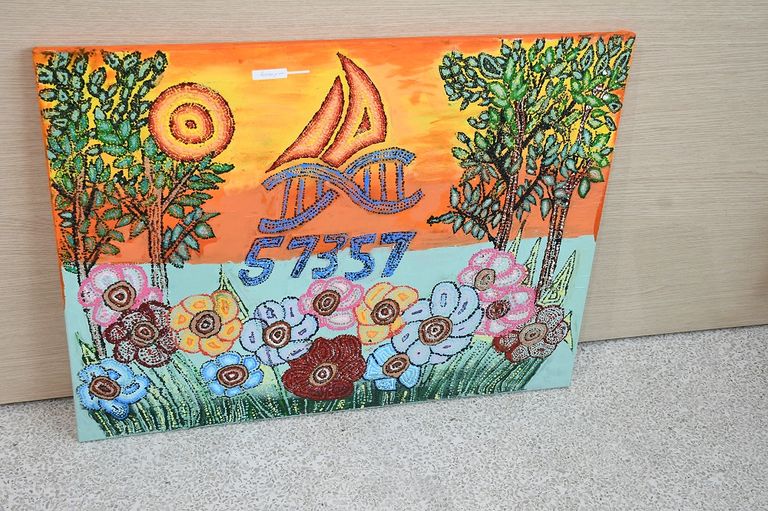 Is psychological rehabilitation limited to unaccompanied children?

This is a very important point. We work on the child and his companion, and we offer "live coach" lectures for mothers to remove negative energy and replace it with positive energy. We teach companions how to deal with new situations of a sick child. Most of the families here come, as I said, from different places, and most of them have no upbringing. Positivity or modification of behavior or culture in general, so we want to teach them how to adapt to the new situation and behave towards the child behaviorally, and chemotherapy makes the child very nervous and weakens his moral and psychological state, and some mothers at the beginning of treatment cannot bear these psychological and mood changes, and some mothers can reach very harsh stages with the child by abusing and beating them, but we change all these behaviors and finally they cannot work with the child and ignore the role of mother or companion, and the patient's home must work on that path with the center. , so psychological rehabilitation and behavior modification must also take place at home.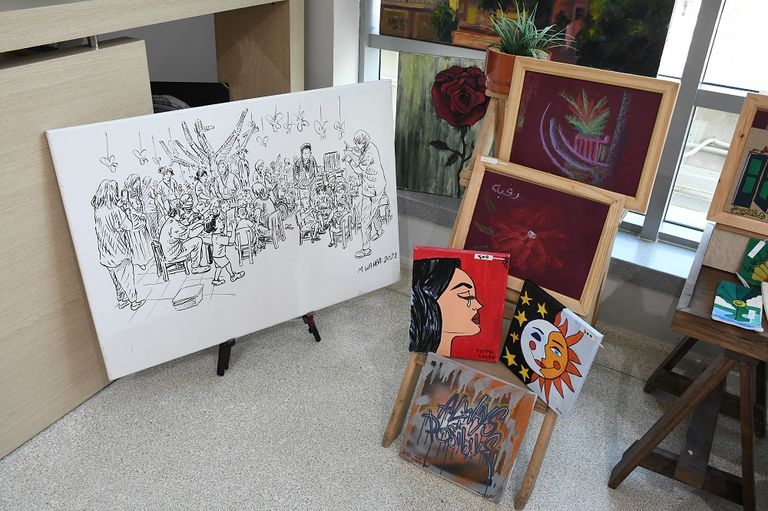 Do you remember the extraordinary talent of one of the sick children?

I have been working at the center since 2016, and before that I volunteered at the hospital and here I saw with my own eyes examples of countless talents, very distinct talents, and we also have children who were treated and are now studying at the Faculty of Fine Arts, and we also have republican athletes the champions, as I have already mentioned, and those who specialized in drawing They presented paintings and works of art that no one believes reached here, and I had the case that a child named Abdel Fattah, his condition was very complex and very late, and he recovered after a very serious operation in the jaw to remove a tumor, this child achieved terrible miracles and reached very advanced stages in the plastic arts, and there the artists saw his work and said that his condition does not recur often, and that child is came from a desert environment, and knew nothing about art, and we discovered his talent here, this case affects me personally.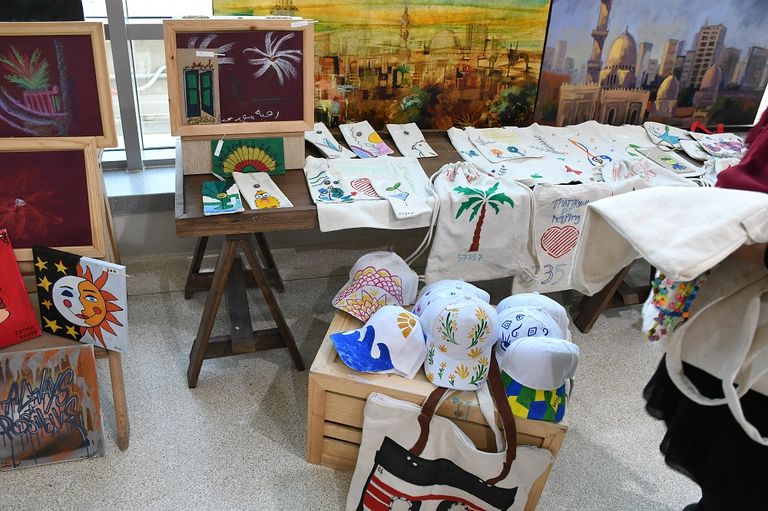 Does the center organize concerts for sick children?

We constantly receive international visual artists and musicians, and the Armed Forces Band regularly organizes a concert for the benefit of children, and we also have volunteers from the Egyptian Opera House, and I send a message to all Egyptian artists, actors, singers, visual artists and all kinds of other arts, always think of our sick children, we are waiting for you to visit the Center of Artistic Creation, come enjoy the sweetness of the children and the light in them, come sit with the children and receive their blessings.